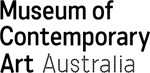 CONTACT: MCA Learning
PHONE: 292452484
EMAIL: learning@mca.com.au
WEBSITE: http://www.mca.com.au/
FACEBOOK: https://www.facebook.com/mca.australia
TWITTER: https://twitter.com/MCA_Australia
ADDRESS: 140 George Street, The Rocks, New South Wales, 2000
DESCRIPTION: The MCA is Australia's Museum of Contemporary Art, dedicated to exhibiting, collecting and interpreting the work of today's artists.
BOOKING INSTRUCTIONS: • Bookings are on a first in first served basis.
• To ensure maximum interactivity class size must not exceed 30 students without the prior agreement of the MCA. Other class sizes may be negotiated.
• The session will last for 45 minutes including question time.
• Pre-event material will be emailed to teachers with the invoice for the session. Digital Excursions are more rewarding if pre-event activities are completed, but they are not compulsory.
• The session, artwork, film and sound clips are protected by copyright and may not be recorded, reproduced or used in any way without the express written consent of the Museum of Contemporary Art.