CONTACT: Karen Player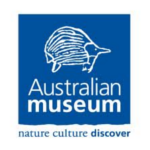 PHONE: 02 9320 6197
FAX: 02 93206072
EMAIL: Video.Conferencing@austmus.gov.au
WEBSITE: http://www.australianmuseum.net.au/education-services
FACEBOOK: http://www.facebook.com/australianmuseum
TWITTER: https://twitter.com/Museuminabox
ADDRESS: 6 College Street , Sydney, NSW, 2010
DESCRIPTION: The Australian Museum has an internationally recognised collection of over 18 million cultural and scientific objects. The Australian Museum plays a leading role in taxonomic and systematic research, and at its research station at Lizard Island conducts significant research on coral reef ecology. Through exhibitions and other public programs the Australian Museum continues to inform and amaze generations of visitors about the unique flora, fauna and cultures of Australia and the Pacific.
Our video conferences are focused around exploring nature and culture.
CANCELLATION POLICY: Cancellation 1 week prior to event with no penalty. Cancellations after this date will be charged full booking fee.